We love our home library to bits but there is one magical addition that I wanted to add to our bookshelves for ages – a miniature book nook. We wrote about creative ways to display your books a while back, but this relatively new feature brings a completely extra level to your book collection and these little scenes would make an amazing gift for a booklover.
You can either buy pre-made book nooks or make your own depending on how handy you are and we explore both routes in this blog post.
UPDATED JANUARY 2023
This post contains affiliate links which means that we may receive a small amount of commission at no cost to yourself if you buy a product through this page. Please see our disclosure here.
What is a book nook?
A book nook is a tiny little room that you position between your books to give the illusion that that there is another world hidden behind your shelves. This is sometimes also referred to as a diorama or a bookshelf insert. If you haven't seen these before, we've shared a variety of different designs and kits so that you can get an idea of the creative possibilities out there.
Where did the bookshelf insert craze start?
Most people trace it back to a Japanese model maker called Monde who posted his bookshelf insert of an old-style Japanese alleyway on Twitter in 2018 after people praised his exhibits at Design Festa, an international art event in Tokyo. He was deluged with orders via Twitter, but at the time of writing, he doesn't have a shop so we're unsure if he's still making these pieces for customers.
But don't worry! If you are hankering for your own bookshelf insert there are plenty of people selling fully assembled dioramas and kits online.
There is also a Reddit subgroup dedicated to book nooks . This now has 53.6K members who post images of their own bookshelf dioramas and share inspiration for new designs.
Fully Assembled Book Nooks
If crafting isn't your bag, it's possible to get hold of assembled book nooks but they are more expensive – costing anywhere between £130 and £300 ($170 – $390). This is because they are hand-crafted and often sold in small batches. You may have to do a little set up with some of them, but it will be minimal.
Many of the premade bookshelf dioramas are made in the USA, Europe and China so if you live outside of these countries, you need to factor in import taxes, duties and shipping costs which can easily double your price.
We have listed our favourite designs below and at the time of posting, these all have good reviews from customers. However, we have no personal experience of any of these so make sure you check everything out if you're seriously thinking of buying one. You can also click through the Etsy links to see more pictures.
All the below are affiliate links which means that we may receive a small amount of commission at no cost to yourself if you buy a product through this page. Please see our disclosure here.
Japan Old Town miniAlley ™ Book nook from Techarge
This adorable Japanese old-town alley has fantastic ratings on Etsy and comes as a premade model not a kit. It's made from laser cut wood plus materials made of plastic and moss and has 2 LED lights to add to the enchantment. The sign uses 4 AA batteries. Batteries are not included.
Dimensions: 9.5″H x 3.5″W x 8″D
Ships from the USA
Italian Alleyway miniAlley ™ Book Nook by Techarge
This miniature Italian alleyway is so cute and it has lovely little features – a tiny bicycle, floral balconies and a little cat. The bookshelf insert is individually handcrafted and comes readymade. All you need to do is insert the battery and switch the light on.
Dimensions approximately 9.5″ tall x 8″ deep x 3.5″ wide.
Ships from the USA.
Whimsical "Medieval Alley" themed booknook shelf insert by VegaWoodworks
Imagine your guests finding this secret passage on your bookshelves.
This medieval fantasy diorama has flickering lanterns, bottles, a potion shop, a cat, a tavern and a bakery. The lights in the potion shop window change colour and there's an angled mirror at the back of the model making the alleyway seem like it extends into the distance. The LEDs are low energy/heat. It's powered by a 3v(US) wall plug with an switch on the back so if you're buying these from outside the USA then do consider this.
Dimensions approximately 10″ tall x 8″ deep x 5″ wide.
Ships from the USA.
Alchemy Library Bookshelf Diorama Insert by LaCasaDelleTreBefane

This wizard's library book nook is the stuff of dreams. The plywood model recreates a magical reading corner and has ethereal lighting to add atmosphere to the tiny diorama.
3 LEDs are contained in the box and powered by a 9 Volt battery which is included.
Dimensions: Height 17 x Width 22 x Depth 8 cm
Ships from Italy.
Sherlock Holmes Bookshelf Diorama Insert
This Sherlock Holmes Bookshelf diorama is another beautiful piece of art from La Casa Delle Tre Befane. We actually included it on here last year but it went out of stock so it's lovely to see it on sale again.
Materials: Laser cut plywood
Dimensions: Height: 22cm, Width: 8cm, Depth: 17cm
The iconic Sherlock Holmes shaped-cutout reveals a tiny version of a Victorian London streetscene. To make this extra special, the seller will send out the Sherlock cutout with the Arthur Conan Doyle quote 'Once you eliminate the impossible, whatever remains, no matter how improbable, must be the truth' so that you can use it as a bookmark. You can also add extra wording to this by contacting the seller at the time of ordering.

4 LED are included in the book nook and are powered by a 9 Volt battery (included). Thebattery only lasts 6 hours. Please consider a 9 volt battery so the seller recommends purchasing an AC adapter for continuous operations (NOT INCLUDED).
This ships from Italy.
Book Nook Insert – The Bookworm
How beautiful is this miniature library complete with bookworm? It's exquisitely-crafted and inspired by the painting Der Bücherwurm by the German poet and artist Carl Spitzweg. Taking 150 hours of work to build, this book nook shelf insert is one of the most expensive pieces that we've seen but it certainly would add real magic to your home library.
We are assuming that this comes pre-made, but please do check before purchase.
Materials: Wood, plastic, acrylic painting.
Dimensions: Height: 8.2 inches, Width: 4.7 inches, Depth: 8.2 inches
Fairy House Bookshelf Insert
Imagine wandering into a fairy world with this fairy house bookshelf insert that fits snuggly between your books to create an atmosphere of enchantment and discovery. Carefully crafted, each piece is unique and the book nook comes fully assembled.
Materials: Plywood, Wood, Glue, Artificial Moss, Sticks
Dimensions: Height: 9.5 inches, Width: 4 inches, Depth: 6 inches
3x AA Batteries Included.
There is a remote for the lights, adding extra magic!
Ships from the UK
Harry Potter Book Nooks
There are many different Harry Potter book nooks out there, most of them recreating Diagon Alley in diorama form. Although these aren't official reproductions, some of the designs are absolutely amazing and will definitely add a touch of enchantment to your bookshelves. Even if you're not intending to buy one of these special creations, it's worth having a look at the craftsmanship that goes into these bookshelf inserts.
Harry Potter Knockturn Alley Themed Bookshelf Miniature by RoRCrafts
This Knockturn Alley book nook is a great starter kit and contains lots of fun details for an affordable price. The basic self-assembly model comes with optional ghoul faces at the window. You can also pay extra for additional signage and a lighting set (the lighting is supplied with 2 x CR2032 batteries) although glue isn't provided with any option due to shipping restrictions.
Dimensions: 24cm high x 14cm wide x 17cm deep
Ships from the United Kingdom
Hogwarts Express Harry Potter Book Nook by KraftyWoodCreation
All aboard the Hogwarts Express at this detailed Platform 9 3/4 bookshelf insert. The kit is laser cut from 3mm MDF with a sheet of sticky back mirror for the back wall. It comes unpainted so you can add your own touch (click on the link to see customer photos). Lights aren't provided.
The assembled dimensions are
Height 290mm
Width 135mm
Depth 203mm
Dimensions: 29cm tall x 13.5cm wide x 20.3cm deep
Ships from the UK.
Diagon Alley Version II Booknook Diorama by LaserCuttingDesigns
Another gorgeous bookshelf diorama of Diagon Alley which is made from wood and ships from the UK. If you live in Europe, this is a much more affordable premade bookshelf insert and has some glowing reviews on Etsy.
Height 20cm x width 10cm x depth 19cm.
Ships from the UK.
Can you commission your own book nook?
It seems that most makers aren't offering commissions at the moment. The only one we can find on Etsy is LaserCuttingDesigns who offer bespoke book nooks from £200. The final cost will depend on the design required so it could cost more than this.
Book Nook Kits
Book nook kits tend to be much more affordable than the premade models and give you the opporunity to add personal touches to your tiny bookshelf worlds.
Lord of the Rings-inspired Book Nook by Cornel73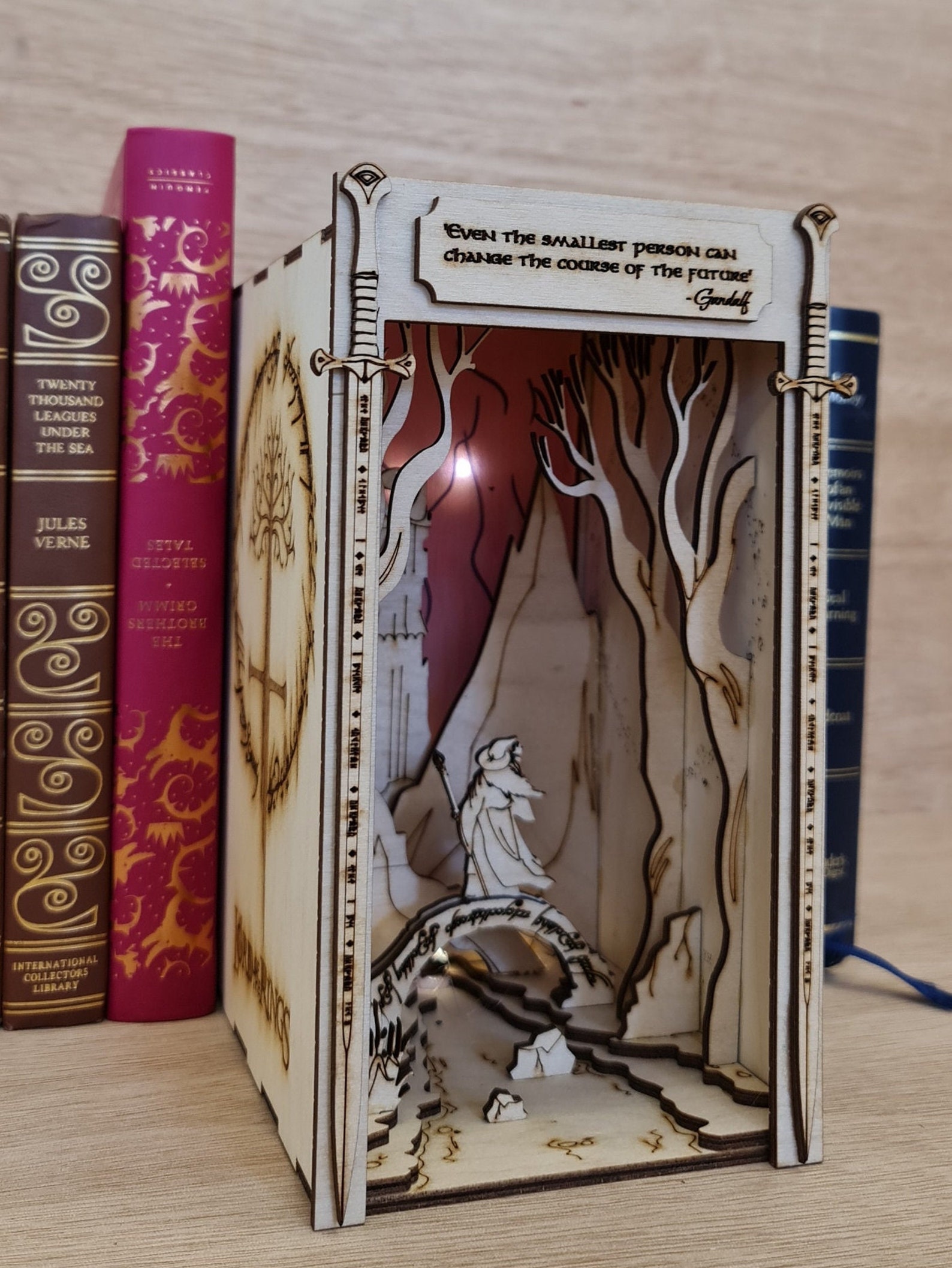 Introduce the mighty power of Gandalf into your library with this book nook diorama kit made from wood. This is self-assembly
The bookshelf insert DIY kit comes with:
paper instructions
plywood pieces including box and parts
lighting set
Dimensions: Height 21cm x width 12.5cm x depth 16cm
Ships from the UK.
Unseen University Wizards Library Book Nook
Based on the famed university from Terry Pratchett's Discworld series, this bookshelf insert kit is affordable and can be beautifully customized. If you click on the Etsy link, you'll see a model with painted books, which is absolutely delightful.
The seller reckons that you can assemble this in 2 hours and it comes with everything you need to make the bookshelf diorama including glue, USB powered LED lights and instructions. No tools needed, although it does come unpainted (which we personally like).
Note: You will need to supply your own USB cable or USB battery pack. The seller is able to let you know which one to buy.
Dimensions: 17 L x 12 W x 25 H. Ships from the UK.
Romantic Island Book Nook with Light Model Building Kit by DiyCraftArt
This sweet miniature box features a tiny lane in a town with lights. The book book comes as a kit which you need to assemble yourself and according to the seller, it takes approximately 6 hours to make.
You need glue and a battery to complete the model and these aren't included in the price. This ships from Hong Kong.
Dracula's Castle Book Nook by Cornel73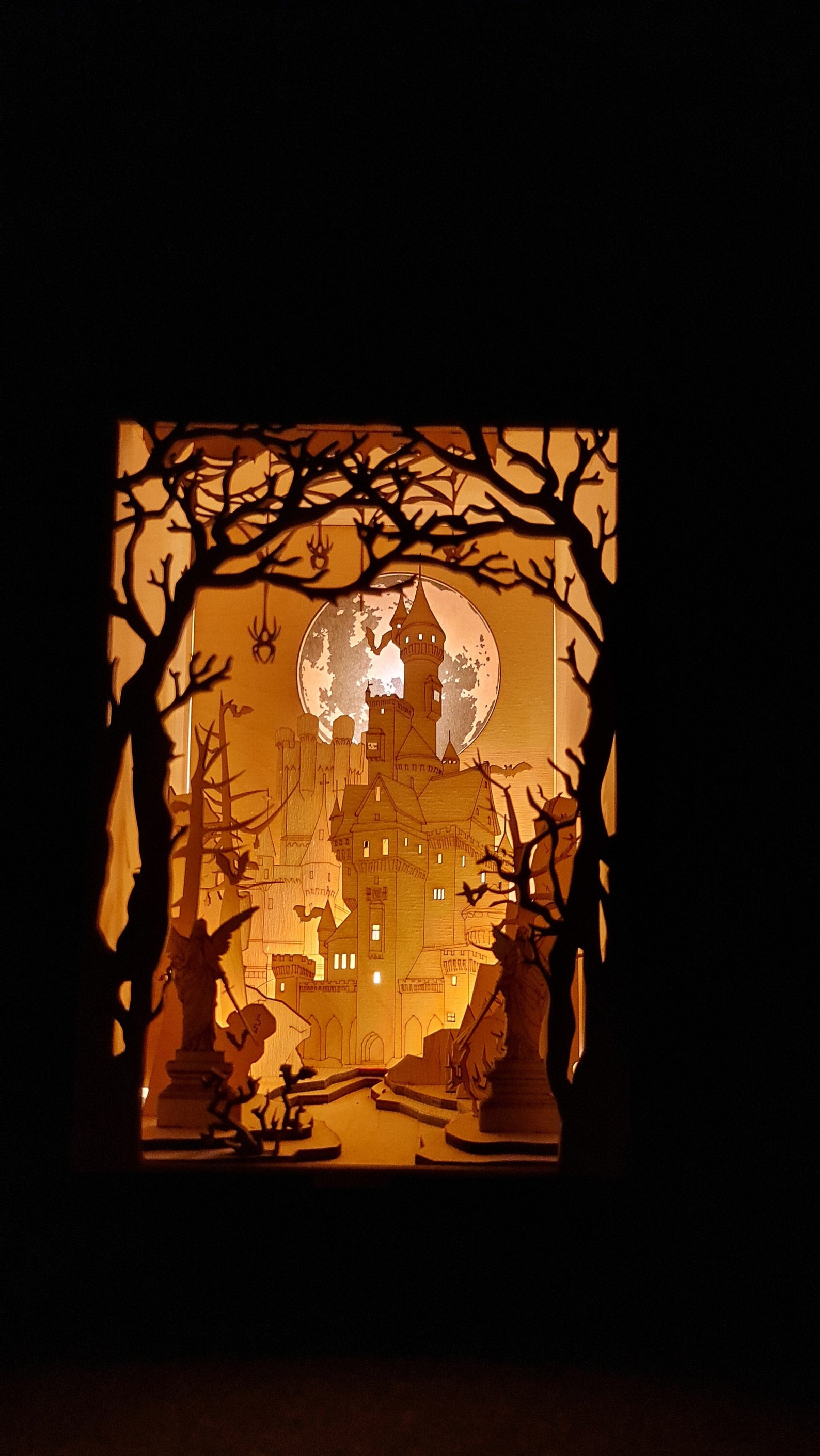 Dare you venture through the twisted wood to Dracula's Castle? This atmospheric book nook is perfect for gothic horror fans and will add an air of terror and mystique to candlelit nights in the library. The kit comes flat-packed and has no instructions. The pieces are numbered for easy-build and the creator has included a link to an instruction video on their Etsy page.
Unpainted plywood parts
Batter-powered lights
Dimensions: 150 mm deep, 220 mm high and 165 mm wide.
Ships from the UK.
Calvin & Hobbes-inspired bookshelf art – DIY Kit by HemispheresCo
How fun is this little bookshelf diorama inspired by the Calvin and Hobbes comic strip?
The artwork is designed to fit between comic books, but the exterior is decorated with imagery from Calvin and Hobbes so that you can display it as a standalone as well. There is a switch on the top so that you can gently illuminate the display. It's made from from laser-cut Baltic Birch plywood.
This is a DIY book nook and it uncludes unpainted wood pieces and a lighting kit. You need duct or painter's tape, wood glue, and 3 AA-batteries to finish the design.
Dimensions: Height: 8 11/16 Inches; Width: 5 7/16 Inches; Depth: 5 1/4 Inches.
Ships from the USA.
Deer in Forest Bookshelf Diorama by MieWorld
Imagine seeing this enchanting miniature forest scene in between your books. Walk down the shady path, past dragonflies, toadstools and a majestic stag then off into your imagination. The book diorama comes as a DIY kit so you need to make this yourself using the instructions (in English) provided.
Dimensions: 24.5 length x 8 width x 18.2 height
Ships from China.
Digital Plans for Bookshelf Inserts
For total DIY enthusiasts, it is possible to buy plans for some of these bookshelf inserts and laser cut the wood yourself. This is a much cheaper option but you need access to the materials and a laser cutter.
When you're browsing bookshelf inserts online – make sure you read the fine print. If the product price is very low then it's likely that this is for the digital plans rather than the kit or model itself.
Here are just a couple the bookshelf insert plan digital downloads that are available online:
Christmas Shadowbox Book Nook SVG. Laser Cutting File. Digital Download.
Booknook Library Digital Download
After a promising start, we hope that the book nook trend will keep on growing – both at the more affordable end and with highly professional models. These little worlds add a completely new dimension to any home library and we definitely want to include at least one on our bookshelves!
Sam's Study
Sam's Study isn't technically a bookshelf insert, but it's a super cute library bookshop miniature that you're bound to want for your bookshelves!
The Sam's Study miniature library comes as a sealed assembly kit and contains LED lighting, as well as the materials you need to build this diorama (wood, cloth, paper and metal). You need to supply 2 x CR2032, 3v Batteries, and glue yourself. Recommended for ages 14+.

Dimensions: Approximately 225mm x 185mm x 190mm.
The kit ships from the UK via the link below but you can often find US vendors.
If you're looking for special gifts, you might also find some ideas on our Valentines Gifts for Book Lovers post.
Would you buy a book nook for your bookshelves? Which one on this page is your favourite?
Please follow and like us: